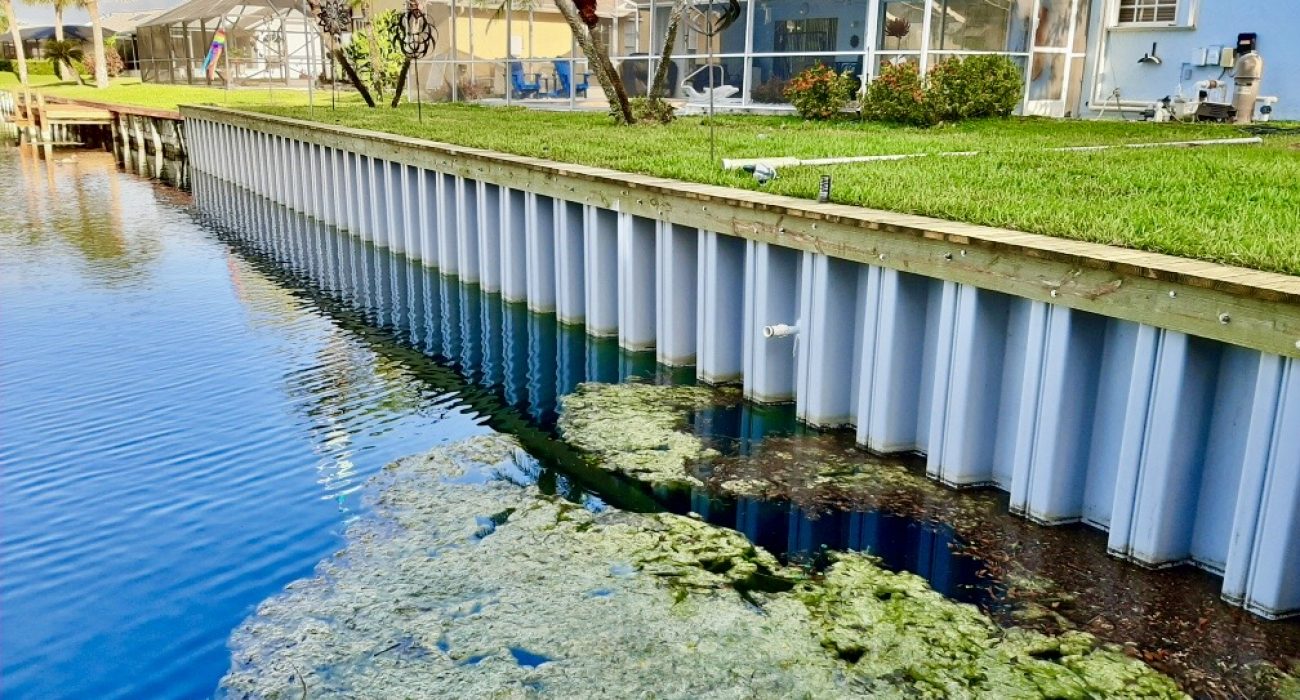 Brevard County Seawall Repair & Installation
If you have a seawall in need of repair from erosion, storm damage, age or failing materials make sure to find a contractor that will NOT put you on a wait list. Call Integrity Marine and we can get your seawall repaired soon and back to protecting your property from the tides, afternoon thunderstorms and storm surges from our always active hurricane seasons. We can offer a variety of seawall options.
Seawall Repair – Whether you need repairs to your concrete seawall, additions or changes to your coquina seawall, want to replace a wood seawall with a vinyl seawall or anything in-between we can help you get your seawall back to optimal performance so that the next storm doesn't cause any added damage to your property, especially if it could have been prevented!
Vinyl Seawalls – Vinyl seawalls provide your property with a lifetime of wear and tear while remaining in tact and protecting your shoreline property. A vinyl seawall can last 50+ years when installed correctly and taken care of due to the long lasting, lightweight material proven to be extremely efficient.
Coquina Seawalls – Not only are Coquina seawalls naturally beautiful to look at, they are also a naturally an amazing material especially when it comes to rough shore waters. If you've every been on a tour in St. Augustine, you know that coquina can actually absorb a cannonball! With that thought in mind, coquina helps to absorb the energy from the rough waters keeping the rest of the property from feeling heavy vibrations from rough water.
Rip Rap Embankment – If you have been to the shores in Titusville around the A. Max Brewer Bridge you will see a ton of Rip Rap Embankments around Sand Point Park. These are large chunks of concrete and rubble from tearing down the old bridge. If you have an idea for a rip rap embankment give us a call and we will work with you on placing the materials in the most efficient way to protect from shore erosion.
Concrete Seawalls – Concrete seawalls have been tried and true for many years and when installed correctly with reinforcing steel, a concrete seawall can withstand harsh impacts and can last over 30 years. If you have cracks or holes in your concrete seawall and need repair call us before the next storm so we can make sure your property is safe and ready for the surge!
Wood Seawalls – Just like wood docks, wood seawalls work well and last well when taken care of. Like coquina seawalls wood is a natural option that offers a beautiful nautical look while offering durability and is not made fully from chemicals or other synthetic materials that are not found in a natural setting. Whether you need to repair, replace or install a wood seawall, Integrity is here to help you knock it out today!
Seawalls We Have Installed